Outsource Photo Editing to Save Time
We understand how busy photographers and business owners can be. That's why we're here to help you.
Outsource your photo editing requirements to us. Our expert retouchers will help you save time in front of your computer doing tedious post-processing.
We want our customers to focus on the big picture: book more photoshoots, have faster turnaround time, earn more, and have more quality time. Leave the small details to us. We pay keen attention to photographer's requests and make sure that they are fully satisfied with the results.  And since we are a team based in Manila, we work while you sleep.
Ready to work with retouch professionals who understand your needs?
Family Photo Editing
Professional family photo editing services are here to lend you a helping hand and deal with the tedious task of image post processing.
Essential Edit​

Basic Skin Retouching​

Teeth Whitening​

Eye Enhancement​

Removal of Stray Hair

Creative Edit

Head or Body Swap​

Add Person in Photo​

Background Extension​

Designer Edit​

Remove Person in Photo​

Change Background
Newborn Photo Editing
Our newborn photo editing services are perfect for busy photographers who can't fit this time-consuming task in their busy schedules.
Essential Edit​

Natural Skin Retouching​

Even Out Skin Tone​

Plain Background Clean Up and Extension​

Minimal Distraction Removal​

Creative Edit​

Head Swap​

Body Swap​

Textured Background Extension​

Advanced Skin Retouching​

Designer Edit​

Newborn Composite​

Background Change​
Corporate Photo Editing
We want to lend you a helping hand with your corporate photo editing tasks.
Essential Edit​

Pimple and Blemish Removal​

Natural Skin Smoothening​

Eye Enhancement​

Teeth Whitening​

Wrinkle / Crow's Feet Removal​

Creative Edit​

Head Swap​

Background Removal​

Eyeglass Glare Removal​

Braces Removal​

Designer Edit​

Background Change​

Composite of Multiple People

Body Shaping / Liquification​

Large Tattoo Removal
Wedding Photo Editing
We are here to help you during your busy schedule by providing you with quality and on-time professional wedding photo retouching services.
Essential Edit​

Minor Distraction Removal​

Basic Skin Retouching​

Black & White Conversion​

Creative Edit​ 

Remove People from Images​

Image Correction / Color Correction​
Image Selection / Culling​
​
Boudoir Photo Editing
Boudoir photography is such an involved process; hence we want to help you out by doing the time-consuming photo retouching.
Essential Edit​

Image Correction and Enhancement​

Skin and Face Retouching​

Blemishes Removal​

Creative Edit

Body Liquification / Shaping​

Designer Edit​
Album Creation
Fashion Photo Editing
Unedited images have their own charm but might not convey the marketing message you or your client wants to make. This is where fashion photo retouching comes in.
Creative Edit​

Body Liquification​

Make Up Enhancement​

Remove Background​

Designer Edit​

High End Skin Retouching​

Advanced Body Liquification & Shaping​

Frequency Separation Retouching

Photo Manipulation
Real Estate Photo Editing
From color correction to object removal, these small alterations are a must to achieve the "perfect" real estate photo every time.
Essential Edit​

Basic Image Correction​

Small Distraction Removal​

Minimal Camera Sensor Dust Removal​

Creative Edit​

Change Sky (Add Clouds)​

Add Window View​

Light Glare Removal from Tiles / Reflective Surfaces​

Designer Edit​

High-End HDR Composite​

Panoramic Stitching​

Change from Night to Day / Day to Night​

Basic Image Correction​
Image Selection / Culling​
eCommerce Photo Editing
If you are an online retail seller who is struggling with post production processing of your product photos, ImagePerfekt eCommerce Photo Editing services is perfect for you.
Product Retouching​

Minor Dirt Removal​

Scratches Removal​

Background Removal​
Clipping Path (3 Complexity Levels)​

Product has little edge/inner detail (ex. book, mug, vase)​

Moderate - Product has some edge/inner detail (ex. chain bracelet, figurines, chair)​

Complex - Product has a lot of edge/inner details (ex. necklace, pet cage, furry rugs)​

Color Change​
Minor Reflection / Glare Removal​
Add Drop Shadows / Reflections
Custom Cropping for eCommerce Website​
eCommerce-ready Image Output
Photo Retouching
No matter what your editing requirements are, our photo editing services will surely bring even more life to your pictures' subjects. We have three levels of photo retouching services available:
Essential Edit – Our basic retouching includes exposure adjustment, color and tone correction, natural skin retouching, teeth whitening and eye enhancement.
Creative Edit – This is what you'll need if you want to do head swap (great for newborn and babies!), remove unwanted distractions in an image, or add something into a shot.
Designer Edit – Fully customize the retouching that you need for your images. Want to know more? Get in touch with us.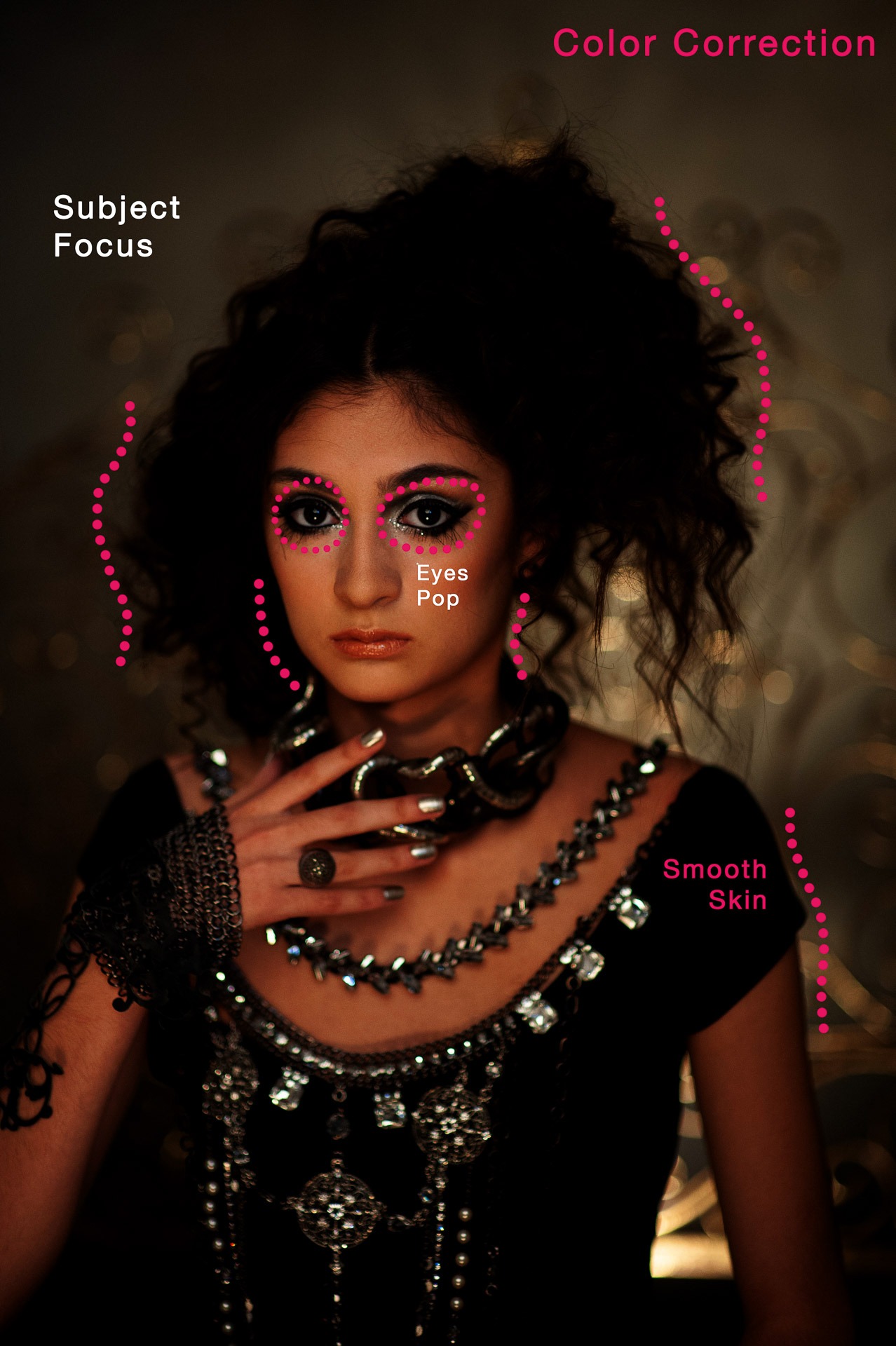 Color Correction
This service is the color correction and enhancement of multiple images to produce high quality and consistent-looking photos, even if you use different cameras or shoot the photos in different lighting conditions. All we need is for you to send over a Lightroom Catalog with Smart Previews so we can work on your images without having to send all your RAW Files.
We have two types of Color Correction you can avail:
Basic Color Correction – We will do the essential adjustments to your images: white balance, exposure and contrast, saturation and vibrance, clarity and sharpening with noise reduction.
Custom Color Correction – Apart from the essential adjustments, we will correct the cropping and straightening of your angles, apply the necessary lens correction and remove any chromatic aberrations. We can also do some Local Brush Adjustments, but with minimal charge, for that added style.